In Cebu City, It is a must for every tourist or visitor to experience a superb meal with a tasteful lechon cebu. So after conquering Cebu last December, all of us agreed that our visit to Cebu wont be perfect if we didn't had a taste of authentic and tastiest Lechon Cebu. Although we didn't had itinerary to follow, feasting on this famed Lechon was on our top list to do before flying to the queen city of the south. Problem was, we don't know what restaurant serves an authentic lechon cebu. So we asked around. Cebuanos are very helpful they directed us to go to CNT Lechon near SM Cebu. It is a popular restaurant specializing in lechon.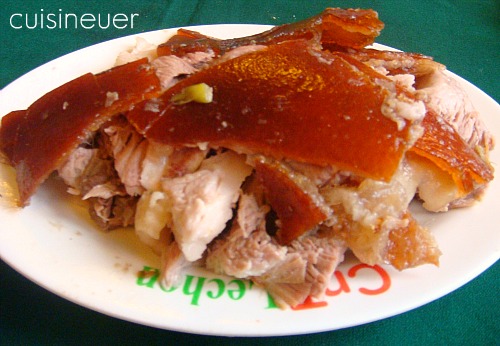 CnT's Best Tasting Lechon (PhP 340.00 per kilo)
The line was long when we arrived. We were given a number because a lot of people are waiting for their turn. After almost an hour, we were able to secure our order, to lessen the greasy aftertaste of lechon, we also ordered Atchara (papaya pickles) . I have to admit their lechon goes beyond my expectations. The long wait was paved away by the delish, famed roasted pig. The finest roasted pig I had tasted.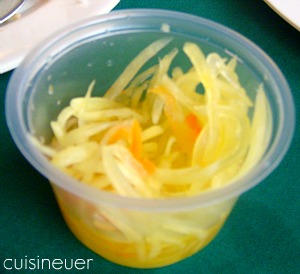 Atchara ( Papaya Pickles)
Cebu's cuisine is very diversified from seafood to meat to vegetables. I'll keep you posted with my Cebu's culinary experience.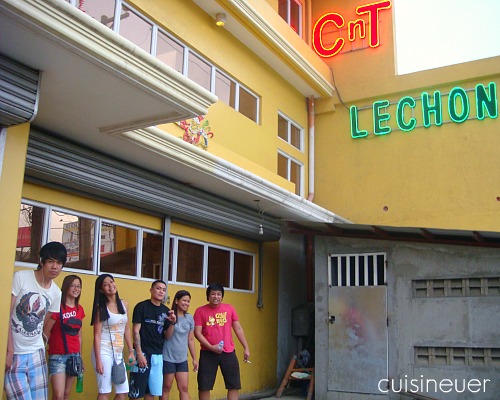 The certified Cuisineuers, taking "yosi break" after a grease-ful meal