Hanging out with Nathan and Jen at Starbucks in Bonifacio High Street, The Fort after a very long week days and loads of work is beyond comparison. Letting the time flies. Bring laughter while talking about humiliating and embarrassing experiences at work. Letting the bad times blend with our delightful coffee and snacks.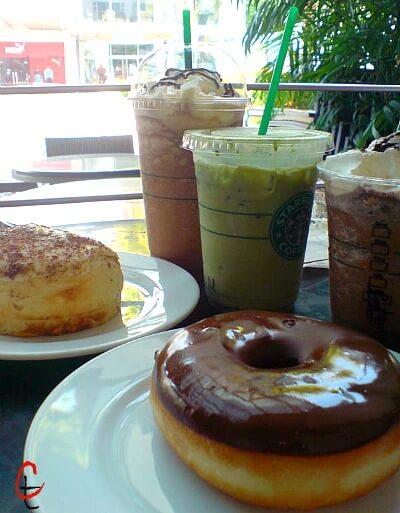 Jen had Java Chip and Cinnamon Swirl, Nathan ordered Choco Glazed Doughnut and Mocha Frap and I had my utmost favorite Green Tea with Strawberry Syrup and Chicken Empanada.
Come to think of it, do you need money to have a good time? No, I dont. I realized, I dont need money to have a good time but a circle of equally crazy friends while having a cup of coffee. Tell me, what is your idea of a good time?