My first havaianas was the classic, limited edition, Cartonistas. Cozy to use at work during dress down days, comfy to use everyday at home (pambahay).
Never had I worn flip-flops that felt like home to my feet. Havaianas is great for almost any occasion. I never know that I would get hooked on it. Then there's another havaianas I have encountered in the mall and I loved it. I liked it to the point that I used it everyday at home, going to the wet market, mall, outing, church and party. They are the ultimate "do anything" shoe. I overused it for almost 2 years, they're now, the classic example of ruined, exhausted, injured and destructed havaianas.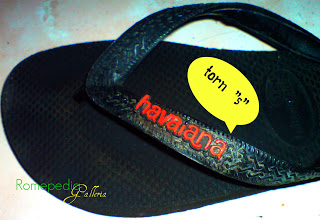 Take a closer look at it, the "s" was torn and the below picture shows "avaiana". I figured, It is the time to purchase a brand new one, doncha think?